As demand for electric vehicles continues to increase, so does the demand for improved performance, faster charging time, increased range, and longer battery life, along with improved safety. These demands drive rapid technological advancements in EV battery designs, especially for high voltages like 400V or 800V. As batteries become more powerful and complex, more sophisticated BMS architectures are needed to ensure safety and reliability of EVs. Therefore, the ability to enable ASIL D functional safety values from the hardware all the way into the application layer software is critical.
This 60-minute Webinar will outline performance and functional safety capabilities with HVBMS and AUTOSAR software to accelerate automotive development.
Speakers:
Jan Rüdiger, Director, AUTOSAR Expert, Elektrobit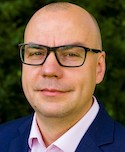 Jan Rüdiger is a Director at Elektrobit, specializing in managing software development projects for AUTOSAR-embedded automotive systems. He started his career with Elektrobit 15 years ago and has worked at the company's offices in Asia and Europe as well as the U.S. Prior to his current role, Jan was a Line Manager in Shanghai, where he was responsible for all infrastructure projects in China and Taiwan as well as the management of the local infrastructure team. He also worked as a Project Manager in Germany, focusing on AUTOSAR projects for major European carmakers. Before joining Elektrobit, Jan was a Research Fellow at the Automation Laboratory in Germany, where he researched the dependability of autonomous mobile systems. He holds a degree in computer engineering from the University of Mannheim.
Andreas Both, Software Manager, Battery Management Systems, NXP Semiconductors

Andreas Both is NXP Semiconductors' Software Manager for the BMS business segment. He has more than 34 years of experience in embedded systems and product development, and has held various roles in system engineering, strategy development, business development, and marketing. He was a research engineer at the Fraunhofer Institute of Microelectronic Circuits and Systems for seven years before joining NXP (former Motorola and Freescale). Andreas holds a Ph.D. in microelectronics from the Universität Gesamthochschule Duisburg.
Romit Modi, Lead Software Architect, Battery Management Systems, NXP Semiconductors

In his role as Lead Software Architect for BMS at NXP Semiconductors, Romit Modi is responsible for the next-generation, high- and low-voltage BMS system software development. He has more than 13 years of experience in software development for the automotive industry, specializing in safety-critical applications for electric vehicles. Romit holds a bachelor's degree in engineering from the Veer Narmad South Gujarat University.
Moderator:
Amanda Hosey, Editor, SAE Media Group

By registering for this Webinar you agree to receive product announcements and special offers from SAE International via e-mail. By submitting your personal information, you agree that SAE Media Group, an SAE International Company, and carefully selected Partner Sponsors of this content may contact you and that you have read and agree to the Privacy Policy (CA Residents refer to Section D of the Privacy Policy). You may opt-out from communications at any time. You may reach us at This email address is being protected from spambots. You need JavaScript enabled to view it..
---